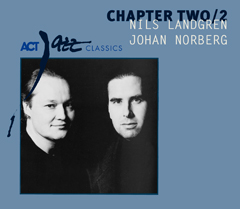 Nils Landgren & Johan Norberg
Chapter Two / 2
Listen to samples at:
www.actmusic.com
BACK TO LIST

On the 9th of December 1980 Nils Landgren and Johan Norberg embarked a flight to Hamburg for a one week tv- session with Swedish singer Lill Lindfors. This was the first time they played together and during the 1980's they would meet again on several occasions as being the most sought after studio musicians in Sweden.
In 1988 they decided to form a duo "Chapter Two" and their first tour was an immediate success followed by tv- shows and more than 300 concerts throughout Sweden.
In 1994 the album
Chapter Two/2
was released which has,
up to date, sold more than 20.000 copies in Sweden. As being best friends they take care of this, their oldest ongoing project, and make a couple of concerts every year, filling the big venues in Sweden with huge crowds of their faithful "Chapter Two-Fans".

Line Up:
Nils Landgren – lead vocals, trombone, trumpet
Johan Norberg – guitar, backup vocals, accordion
Tracks:
01 Get Here (Brenda Russel) 04:21
02 Song For Nils (Johan F. Norberg) 04:46
03 Killing Me Softly (Foy / Gimbel) 04:28
04 The Red Moped (Johan F. Norberg) 03:30
05 Moon Shadow (Cat Stevens) 02:40
06 Like Someone In Love (Jimmy Heusen) 01:40
07 Everything Happens To Me (Dennis Adair) 03:46
08 Waltz For Johanna (Johan F. Norberg) 02:05
09 Everything Must Change (Bernard Ighner) 05:08
10 Morning Song (Johan F. Norberg) 02:28
11 Birthday Dance (Johan F. Norberg) 05:04
Recorded, mixed and mastered by Mikael Lyander at Sandkvie Studio
Additional mastering: Claes Persson
Produced by Johan Norberg, Nils Landgren and Mikael Lyander