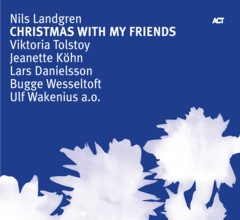 Nils Landgren with friends
Christmas with my friends
Listen to samples at:
www.actmusic.com
BACK TO LIST

With the "Christmas With My Friends" concert recording a long-time dream come true for me.
I have always wanted to perform these songs of joy, but in my own way and with good friends as company, being able to concentrate on the music without any boundaries.
It is with great pride and happiness that I am presenting this Christmas concert to you. It is the Christmas I dreamed of as a kid and I kept on dreaming till I got the chance to fulfil it and now it ́s here, right in front of me and you. I am as happy as a kid on Christmas Eve when the gifts are handed out (yes, that ́s the way we do it in Sweden). The music on this recording is a choice of songs that I have come across during all the years of dreaming of making this project.
I have been searching all over the place and I have asked all my friends performing on this project to look for songs they1d like to perform.
What we've got is a wonderful mix of songs from medieval Europe to modern Christmas songs from the American tradition, something that I always wanted to do, at least as long as I have been in the business which counts 30 years today.
My friends on this recording are simply the best ones I could wish for as Christmas gifts. Viktoria Tolstoy, Sharon Dyall, Jeanette Köhn, Johan Norberg, Ulf Wakenius, Jonas Knutsson, Lars Danielsson and Bugge Wesseltoft, they all go way back. Ida Sandlund is my newest friend, a truly wonderful performer from whom you will hear more and soon! I hope that you will enjoy our way of celebrating Christmas. Please do not forget why we celebrate. Let us make this world a better place where we all can live together and enjoy our time here on earth.
Love, Nils

Line Up:
Nils Landgren
– trombone, vocals
Viktoria Tolstoy, Jeanette Köhn & Sharon Dyall
– vocals
Ida Sandlund
– piano, vocals
Bugge Wesseltoft
– piano
Lars Danielsson
– bass, cello
Johan Norberg & Ulf Wakenius
– guitar
Jonas Knutsson
– saxophone (on Maybe This Christmas")
Anders Bromander
– church organ
Walter Brolund
– Trombone Choir
Tracks:
Ave Maris Stella
Bereden väg för Herran
Jul Jul Strålande Jul
When You Wish Upon A Star
Christmas Song
Aria: Lascia ch'io pianga
Nu tändas tusen julejus
In Dulce Jubilo / Det kimar nå til julefest
Gläns över sjö och strand
Det Strålar en stjärna
Es ist ein Ros entsprungen
White Christmas
What Child Is This?
När Juldagsmorgon glimmar
Have Yourself A Merry Little Christmas
Till Bethlehem
Stille Nacht, heilige Nacht
Additional track on the CD: Maybe This Christmas (Ron Sexsmith)
Produced by Nils Landgren.
Executive Producer: Siegfried Loch
Recorded at Odensala Medieval Church, Marsta / Stockholm, Sweden on December 4th, 2005.
Engineered, mixed and mastered by Lasse Nilsson, Nilento Studio, Gothenburg.
DVD filmed by Barracuda Film & Television AB.