Nils Landgren is to receive the Bundesverdienstkreuz (Order of Merit of the Federal Republic of Germany) from the President of Germany, Frank-Walter Steinmeier. This award is in recognition of Landgren's major contribution to the German music scene. The award will be presented to him today, 13 June 2019 by Hans-Jürgen Heimsoeth, German Ambassador to Sweden, at the Ambassador's official residence in Stockholm.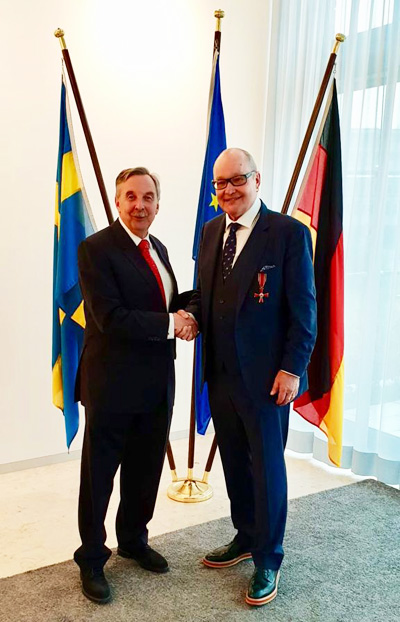 Nils Landgren, who is Swedish, is one of the most successful and versatile jazz musicians in Europe today. And it was audiences all over Germany who first found a special place in their hearts for "Mr. Red Horn –and they did so right from an early stage in his career. Landgren's activity is wide ranging: besides the "Nils Landgren Funk Unit", he appears in smaller line-ups more focused on modern jazz. The tours and albums associated with his "Christmas With My Friends" series have meanwhile become a natural part of the festive season in Germany. His guest appearances with all kinds of projects and at countless concerts have an impact far beyond the jazz scene. Today, Nils Landgren's presence can fill the country's major classical concert halls. His rise to prominence now makes him one of the most visible public figures representing jazz and jazz-related music in Germany.
Nils Landgren has also had a particularly far-reaching involvement in German musical life: he was artistic director of JazzFest Berlin first in 2001 and then again from 2008 to 2011 ; he has been artistic director of the JazzBaltica Festival since 2012; he has been a lecturer at the Musikhochschule (conservatoire) in Hamburg since 2006 and professor of jazz trombone there since 2014. Through his roles as mentor, teacher, friend, promoter and as a supportive colleague on stage, Nils Landgren has had a decisive influence on the careers of countless young musicians. He consistently seeks out emerging jazz talent from all over Europe and has influenced the career development of musicians such as Esbjörn Svensson, Viktoria Tolstoy, Wolfgang Haffner, Lars Danielsson, Ida Sand, Rigmor Gustafsson, Jessica Pilnäs, Johan Norberg, Jeanette Köhn, Michael Wollny, Eva Kruse, Lisa Rebecca Wulff, Janning Trumann, Ingolf Burkhardt, Peter Weniger, Tini Thomsen, Nicole Johänntgen…they have all benefited from a close association with Nils Landgren.
Landgren is often invited back to contribute to projects with large ensembles such as the NDR Big Band, the Berlin Philharmonic Orchestra, the symphony orchestras of Bochum and Osnabrück, the Neue Philharmonie Frankfurt, the Philharmonie Sachsen Anhalt, the Stockholm Royal Philharmonic Orchestra, the ensembles of the Young Euro Classics Festival and JazzBaltica – and many others. Nils Landgren plays an active role in charitable work and cultural politics: his "Funk for Life" project supports and is partnered with Médecins Sans Frontières (doctors without borders) and gives opportunities for musical education to children and young people in Africa; in 2017 he spoke and played in front of a crowd of thousands in Berlin at a mass demonstration organised by the pro-European citizen's initiative "Pulse of Europe".
Nils Landgren has been an exclusive artist with the German jazz label ACT since 1994. This has led to the release of over 30 albums with him as leader, plus several more on which he as either appeared as a guest or been the producer. Nils Landgren first met ACT founder and label proprietor Siggi Loch exactly 25 years ago at JazzBaltica. That encounter was not only the beginning of a highly successful and close collaboration between the two men, it also had much more widespread consequences: the ACT label has gone on to release more than 100 albums by Swedish artists.
Nils Landgren has already been the recipient of several awards, notably a Swedish Grammy for his lifetime's work. He has also received royal medals in Sweden, both the 'Litteris et Artibus' and the 'Medaljen för Tonkonstens Främjande'(medal for the promotion of music), the Sir George Martin Music Award and prizes in Germany such as the Joachim-Ernst-Berendt-Ehrenpreis from the city of Baden-Baden and the Kunstpreis (art prize) in Schleswig-Holstein.