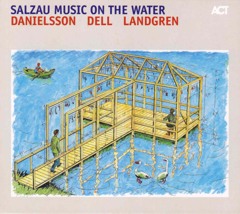 Danielsson / Dell / Landgren
Salzau music on the water
Listen to samples at:
www.actmusic.com
BACK TO LIST

Line Up:
Lars Danielsson
– bass
Christopher Dell
– vibraphone, speech
Nils Landgren
– trombone
Tracks:
Salzau Music on the Water
01 Part I
02 Part II
03 Part III
04 Part IV
05 Part V
06 Part VI
07 Part VII
08 Part VIII
09 Part IX
10 Part X
11 Part XI
Music composed by Lars Danielsson, Christopher Dell and Nils Landgren.
Produced by Siegfried Loch.
Recorded live and open air at the JazzBaltica Festival at 5.00 am on July 4th, 2005 by Cees Snellink.