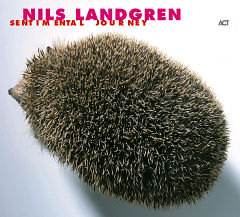 Nils Landgren
Sentimental Journey
Listen to samples at:
www.actmusic.com
BACK TO LIST

One day quite some time ago, when taking a stroll along the sea where we live, I mentioned to my wife Beatrice that I was dreaming of making a new album with beautiful melodies and good lyrics with a meaning, at least to me. And, I wanted strings on it. I had got the idea of recording with strings after being given the chance to perform with the wonderful G-strings from Hamburg, but I was looking for something a bit different this time. "Why don´t you call the FleshQuartet up?", she asked . So I did.
They said "Yes" and on New Year's Day 2002 I teamed up with my ACT Man Siggi Loch to discuss the project. He liked the idea and the result is a fantastic new world of sounds to me. I am forever grateful to the guys for writing and performing arrangements of such beauty and grace, totally understanding the idea that I had in my head from the start and even making it sound better than in my fantasy world!
I also wanted piano, bass and drums to be there for me. So I called Anders Widmark, Lars Danielsson and Wolfgang Haffner up because I simply could hear the way it would sound, even though they´ve never played together before. Together with all these fine musicians I really feel that I have found what I was looking for and the material I have chosen for this album is songs that I love with all my heart. With that, when paired with a great piano trio, nice singers and tromboneplayers and some fleshstrings, what more could I ask for in life? Thank you all for making me a very happy man!
This album is dedicated to Bea and to all you people out there supporting the music that I love to play.
Personnel
Nils Landgren – vocals and trombone
Anders Widmark – piano
Lars Danielsson – bass
Wolfgang Haffner – drums

FleshQuartet:
Jonas Lindgren – violin
Örjan Högberg – viola
Mattias Hellden – cello
Sebastian Öberg – cello
Chrille Olsson – bass on "Everything must change" + whatever is needed

Guests:
Esbjörn Svensson – fender rhodes
Rigmor Gustafsson: vocals on "Fragile"
Viktoria Tolstoy : vocals on "Be there for you"
Karin and Mimmi Hammar: Trombones on "Sentimental journey"
Track list:
01 Speak Low (Nash / Weil)
02 Ghost In This House (H. Prestwood)
03 This Masquerade (Leon Russel)
04 Nature Boy (Eden Ahbez)
05Fragile (G.M. Sumner)
06In A Sentimental Mood (Duke Ellington)
07 The Ballad Of The Sad Young Man (Wolf / Landesmann)
08 My Foolish Heart (Washington / Young)
09 Should I Care (Eastwood – Bayer Sager / Thompson)
10 Be There For You (Serletic / Kadish)
11 Sentimental Journey (Green / Brown / Homer)
12 Everything Must Change (B. Ighner)
13 I Will Survive (Fekaris / Perren)
Produced by Siegfried Loch with Nils Landgren
Recorded in July 2002 at Polar Studio, Stockholm by Jan Ugand.
(c) & (p) 2002 ACT Music+Vision GmbH & Co. KG