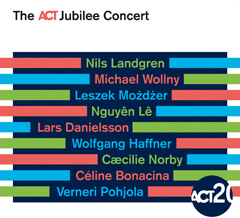 The ACT Jubilee Concert
Directed & Co-produced by Nils Landgren
Listen to samples at:
www.actmusic.com
BACK TO LIST

Virtuosic, full of vibrant energy, distinguished and courageous in terms of style and with a breath-taking interplay: The ACT Family Band around Nils Landgren explored Jazz beyond all boundaries during ACT's highly acclaimed Jubilee Nights in February 2012. This double album finally makes an amazing experience of what Jazz can be accessible to a broad audience.

Musical Director: Nils Landgren
Recorded at Laeiszhalle Hamburg, Germany, 05.02.2012
Sound Engineer: Sven Kohlwage
Producers for NDR: Axel Dürr and Stefan Gerdes
CD Mix and Mastering by Klaus Scheuermann / 4Ohm

The ACT Jubilee Concert Tour was produced by Nils Landgren & Siggi Loch for Karsten Jahnke Konzertdirektion GmbH staged in Berlin, München, Düsseldorf and Hamburg.