Nils Landgren Funk Unit Tour 2014 in South Africa
The Nils Landgren Funk Unit will be returning to South Africa with the Funk For Life project supporting Music Schools in the South West Township (Soweto) of Johannesburg & the work of Medecins Sans Frontieres (Doctors Without Borders) around the world.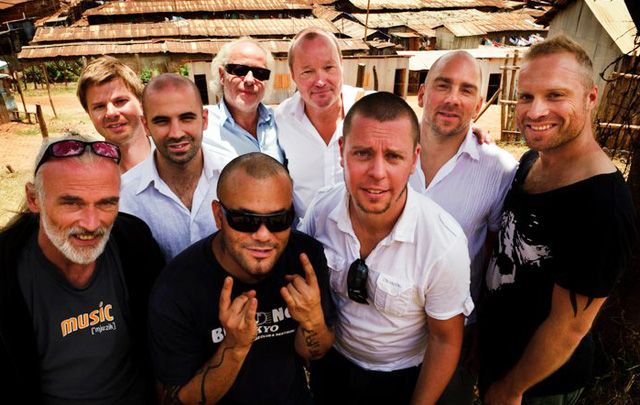 Funk For Life – music changing lives
Nils musical partner Magnum Coltrane Price and the full Unit are also back to carry on their work helping disadvantaged young people across Africa get better access to the life changing powers of music. Nils's passion stems from the absolute belief that 'every child has the fire within, only someone has to light it up'.
Last year the Unit, Lira & Dan Sermand teamed up to take instruments and workshops to a school in Khayelitsha in the Western Cape and visited. This year the team will be working with Thaba-Jabula Secondary in Klipspruit, Soweto, with the Help of Yamaha South Africa & Various Music Schools in Sweden.
Nils began raising funds for Doctors without Borders back in 1994, and went on to create the album "Funk For Life" in 2009. The funds from the album supported the medical project of Doctors Without Borders in the slum of Kibera (Kenya) & Khayelitsha (south Africa) and to help musically promote children and teenagers in music schools of those two locations.
Nils Landgren Funk Unit Tour 2014 in South Africa
28 October 2014 / South Africa – Pretoria – Swedish Embassy
Nils Landgren Funk Unit celebrating 20 years of Democracy
29 October 2014 / South Africa – Johannesburg – The Orbit Jazz Club
Nils Landgren Funk Unit at 20 h 30
30 October 2014 / South Africa – Johannesburg – The Orbit Jazz Club
Nils Landgren Funk Unit at 20 h 30
31 October 2014 / South Africa – Soweto – Johannesburg
Funk For Life Project in Soweto's Music Schools
Details about the gigs at The Orbit – Home of Jazz in Johannesburg:
The Orbit, 81 De Korte Street, Johannesburg, Gauteng
Wednesday 29th & Thursday 30th of October at The Orbit – Jazz Club
The Orbit website: www.theorbit.co.za
Tickets are R 200, to book contact info@theorbit.co.za or call +27(0)11 339 6645
The Nils Landgren Funk Unit: Don Funk, Andy Pfeiler, Jan Ugand, Rasmus Kihlberg, Petter Bergander, Jonas Wall