1992 saw the first performances and recording of the Nils Landgren "Unit". The final breakthrough beyond Scandinavia came first in 1994: it was at the Jazz Baltica Festival at Salzau in Germany that the "Unit" became the "Funk Unit". The album "Live in Stockholm" was released that year.
The next Funk Unit release, "Paint It Blue", was one of 1997's most successful albums and received Germany's Jazz Award. The following tour of over 100 dates gave Nils Landgren and the Funk Unit their breakthrough in Germany.
In between 1999 and 2001, three albums of the Nils Landgren Funk Unit were released: after "Live in Montreux" appeared in 1999 "5000 Miles" and in September 2001 "Fonk da World", which was presented live at a special 3 day festival in Hamburg dedicated to Nils Landgren's music. The "grooving band, which encouraged the younger members of the audience into a dance frenzy, but which was also taken seriously by the greying jazz snobs" (Spiegel), proved that it could be counted as "the best funk band in Europe today" (Stereo).
In 2004, the Nils Landgren Funk Unit went full steam ahead and produced the acclaimed Platinum "Funky Abba" album; the NLFU personal hommage to one of the greatest pop bands in history.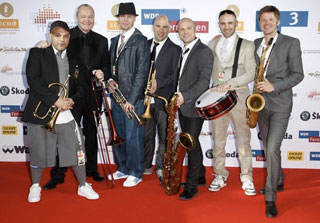 2007 brings the Funk Unit back again. The eighth funk album demonstrates the same killer groove as its award-winning predecessors lead us to expect. Nils Landgren Funk Unit definitely has it: the "Licence to Funk". A vital contribution on this album was delivered by the legendary Ray Parker Jr.
Music knows no borders, music is freedom – this is Nils Landgren Funk Unit's credo. For every record of his new Funk Unit album "Funk For Life" (released in spring 2010) sold, one Euro goes to the Funk Unit – Médecins Sans Frontières (Doctors without borders) project "Funk For Life" in Kibera Nairobi. By purchasing the CD the buyer will contribute in making life for people in Kibera just a bit easier. And he helps to guarantee that from now on, music will be a central part of the education in Kibera
After having toured all over the world in 2010, The Funk Unit slowed the pace down temporarely but only to regenerate and to write material for the next slammin´ Funk Unit Album, to be released in 2013. The album was named "Teamwork", as that is exactly how we do it.
Touring extensively through Europe the years following "Teamwork" did not allow much writing but as we got along, new music emerged and in 2016 we were ready to get into the studio again and as we said " Who you gonna call", we called Ray Parker Jr. to once again join us to do his thing. The Album released in 2017 was named " Unbreakable", clearly referring to our never ending wish to continue on our journey.
And dont yo worry, in november 2020 we will record our next album to be released spring of 2021, followed by a European tour throughout the year.
We might just be performing closer to you than you think!
Just keep a close eye at the tourschedule, it will be updated as soon as something new happens!
Yours truly,